About Us
Myers Surveying is a professional surveying company dedicated to providing complete, specialized surveying services. Our company represents a lifetime of commitment in the surveying industry. For over 72 years we have been serving the needs of central Ohio. Established in 1947 by A.O. Myers, Jr., Myers Surveying has earned its solid reputation through years of reliable, dedicated, high quality service. Our ensemble of surveying professionals are educated, licensed by the State of Ohio and experienced in providing community residents and businesses with a wide variety of surveying services, including boundary surveying, mortgage location surveying, engineering/architectural surveying and title surveying.
OUR CLIENTS
Through our years of service, Myers Surveying has developed many close relationships in the fields of real estate, law and banking. These relationships have provided us with greater insight and better understanding of each client's specialized needs. The reputation of Myers Surveying Company among professionals in the fields of architecture and construction is equally strong. The new and ever-improving skyline of downtown Columbus is a showcase of our work. The Nationwide Insurance Complex, the state Bureau of Worker's Compensation Building and the original State Office Tower are showcases of Myers Surveying Company's fine work.
PROFESSIONAL SURVEYORS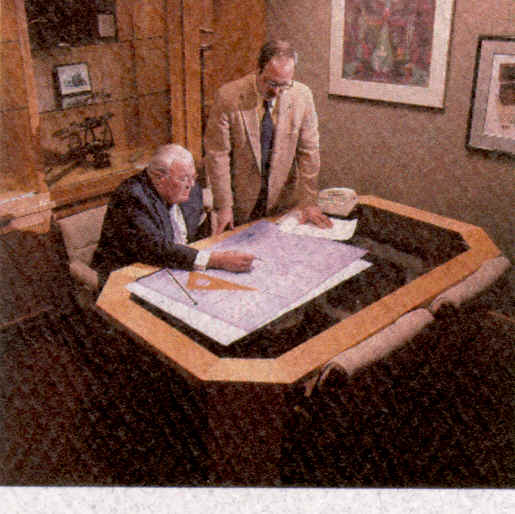 At Myers Surveying, all of our full-time surveying crews are directed and supervised by fully licensed surveyors possessing an average of twenty years professional experience. Their many years of education, training and experience meet the high standards demanded by this state for surveying licensure. To obtain a surveyor's license in Ohio, an individual must be both knowledgeable and skilled in all areas of surveying and meet the strict pre-requisites outlined by the state. First, a candidate must have a four-year degree before being allowed to take the Surveyor-in-Training test. Upon successful completion of the SIT test, an individual becomes an SIT. He or she then must obtain four additional years of work experience before being eligible for the state licensing examination. Upon successful completion of the state licensing examination, the individual receives a surveying license from the State Board of Registration of Engineers and Surveyors.

PROFESSIONAL INVOLVEMENT
With a Past President of the Professional Lands Surveyors of Ohio at the helm, Myers Surveying Company is an active leader in the advancement and growth of professional surveying in Ohio. Our continued interest in new technology and methods enable us to better serve all of our customers.
A primary objective of Myers Surveying has always been to uphold the high standards and integrity of professional surveying both within our community and the industry. Myers Surveying was instrumental in revising Ohio law to require a college degree for all candidates taking the surveyor's examination, as well as assisting in the writing of current Ohio law governing boundary and mortgage location surveys.
Myers Surveying Company and its surveyors are active members in national organizations such as the American Congress on Surveying and Mapping, the National Society of Professional Surveyors and the American Land Title Association. We are also active at the state and local levels, where some of our surveyors serve on committees, in organizations such as the Professional Land Surveyors of Ohio, Ohio Mortgage Bankers Association, Ohio Land Title Association, Columbus Mortgage Bankers Association and Women's Board of Realtors.
Our commitment to the profession may best be exemplified through our desire to share our knowledge with those within the surveying industry as well as professionals in related fields. Our surveyors regularly guest lecture at seminars sponsored by the legal organizations as well as those in the title, mortgage, and real estate industries.